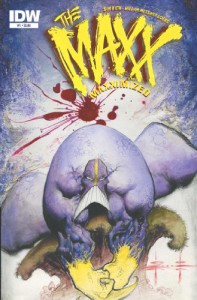 Disclaimer: I was given a free copy of this book in exchange for an honest review.
Warning: This story deals with rape. [For more details scroll to the end of the review.]
In 1994, a year after The Maxx was first published, I dropped out of high school and eventually ended up on the streets. It was cold, and smelly, sleeping in service elevators and doorways. I hustled for hand outs on street corners and much worse to get money and food, but even in all this darkness I had bits of light. I had friends, who watched my back, and huddled with me in those doorways. We shared warmth, laughter and what little food we had. And looking back now, I learned a lot about the positive sides of human nature, and my own strength and resilience.
I know what you're thinking. "What's the connection to a comic book?" Well, there's a lot. Especailly when we're talking about a comic book created by Sam Keith.

Years after I got off the streets and got my life back on track. I sat in my warm, cozy living room, and watched I watched the first episode of a new animated series called The Maxx. The sight of a damp, shadowy cardboard box, and the sound of Maxx's grizzled voice transported me back to my own dark days. It was a visceral reaction, inspiring tears and a deep need to know more about these characters and their story. After I finished watching the episode I went out and bought the comic book, and my view of what comic books were or should be was forever changed for the better.
As I sat down a few days ago to read it again, I felt those emotions take hold of me again. The connection I feel with this story goes beyond Maxx's sad existence on the streets. It's in his complicated friendship with Julie, the dark world of the story, and the secret at the center of it all. The art is lush and wild, it literally cannot be contained by the page. Likewise the story breaks the boundaries of the traditional narrative. The story is told out of order, from varying POVs which are intercut with seemingly no rhyme or reason, but that's part of the genius of the storytelling. As a reader, you're never quite sure what's real and what's not. Sometimes it seems like it's all real, and there in lies an important key to the story. Which I will not spoil. I'll just say that there is always a reason for everything in this story, even the Outback and the Isz.
The Maxx is unlike anything that came before it, and while there were pretenders to the throne after it's release, no one has come close to capturing the magic and emotional depths of this series. It is defies genre boundaries, straddling fantasy, superhero adventure story and magical realism. At its hear, The Maxx about flawed people trying to find their place and meaning in a dark, ugly reality that looks a lot like our own. But in this world heroes don't always look the way you think, and neither do villains.
While Maxx is the title character, and the primary POV, it is Julie Winters story. She sits at the center of this story and this world. She is a powerful figure, even though she doesn't wear a mask or costume. There's a truth that the story revels both about the nature of heroism and the nature of recovery that will resonate deeply with all survivors of abuse.
[Trigger Warning explained here] The narrative deals with rape both in scenes that hint at it, and explicit conversations about it. It is handled with respectful care. In fact, this is one of the most unique and affective portrayals of how traumatic sexual violence can be for victims and those who love them. But even more importantly it shows the power of compassion and forgiveness, especially when turned inward.
It's been over twenties years since the first issue of The Maxx appeared on comic store shelves. Yet this story hasn't lost an ounce of it's power or resonance. Whether you're new to comic books or an old school fan, The Maxx should be on your "to be read" list. Even after all this time it is still in the top five of my personal all time favorite comic books list, and I'm willing to bet it would make your list if you gave it a try.
I recommend it to fans of The Crow, Saga, Sin City, V for Vendetta, and HBO's True Crime.